Lumenier 2207 2050KV Chief Racing Motor V2
Sorry, currently out of stock
The V2 Chief Racing Motor was developed by Lumenier in collaboration with professional drone racing pilot Alex "Chief" Campbell. Chief asked Lumenier to make a motor that would give him an edge on the racetrack, but also in the pits, where many pilots often spend time repairing broken gear. With the success of the original Chief motor, the V2 now improves upon the winning design for even better performance on the racetrack.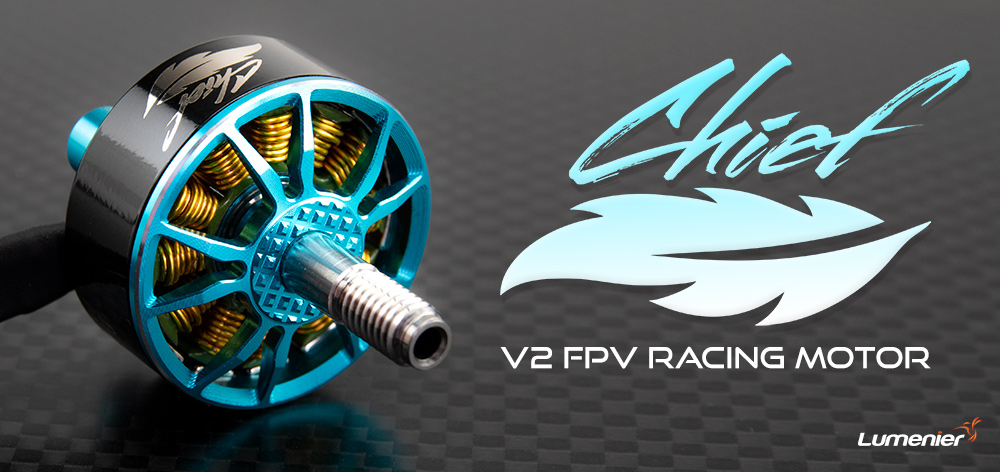 What's A Racing Motor Anyway?
Race Pilots put their drones under extreme stress. The constant high throttle environment can really push the components to the limit, namely motors. When a motor is pushed too hard the enamel on the windings can deteriorate and cause shorts, burning up your motor ending your lap in an instant. With the Chief Motor, Lumenier set out to make burnt motors a thing of the past. Most motors use windings rated up to 180C°, but the Chief motor is constructed with enamel capable of withstanding over 240C°! If Chief can't burn 'em up, there is a pretty good chance you can't either.
Another obvious factor in racing is power, and the Chief Racing Motor has plenty of that. With a minuscule air gap between the stator and curved N52SH bell magnets, you get great efficiency and power. And since the windings can take abuse, you can feel confident running high voltages, even up to 6S on these puppies, which feels pretty close to Mach 1.
Finally weight is a key factor in any racing drone and a light weight motor is paramount. A lighter motor means faster throttle response, quicker spool up, less weight on the arms means better handling and agility on the track. The Chief V2 improves on the original by shaving off another 1g of weight for an incredible 28g total weight of the motor.
---
"Through months of design and testing, I can confidently say we have made something that stands out from the rest of the motors in the industry while filling my exact needs on the track with next-level performance."
-Alex "Chief" Campbell
---
Built To Last
The Chief is the first motor by Lumenier to employ titanium alloy shafts. These shafts are made from high-quality titanium alloy to help save weight, while also strengthing the overall shaft and prevent the threads from stripping.
The motor features a minimal lightweight base and hollow steel 4mm shaft with screw termination for easy maintenance. Every gram counts in racing, so we made the Chief 2207 motors as light as we could (28g) without sacrificing durability or power.
Carefully assembled and dynamically balanced to the highest standard in Lumenier's climate-controlled facility, the Lumenier Chief motors deploy state of the art glue technology, application robots for even glue distribution, and advanced curing procedures to ensure magnets won't slip -- even under the tremendous demands put on them during drone racing and FPV freestyle events.
New Features in V2
New improved bell design for more performance
7075 Aluminum for more durability
Lower weight 28g vs 29g of V1
High-Temp Silver-Core Wire with 240C° Rated Enamel
Specifications
KV: 2050
Configuration: 12N14P
Windings: 9-turn DLRK
Termination: D (Delta)
Stator Diameter: 22mm
Stator Height: 7mm
Stator Lamination Thickness: 0.15mm
Magnets: N52SH Curved
Bearing Size: 9x4x4
Shaft: 5mm Titanium Alloy
Inner Shaft Diameter: 4mm Titanium Alloy
Base Mounting Pattern: 16x16mm M3 Thread
Motor Dimension: 27x19mm
Weight: 28g (short wires)
Cells: (LiPo) 4-6S
Motor Wire Length: 150mm / 20AWG
Motor Connection: Bare Wire
Includes
1x Lumenier Chief 2207 2050Kv Motor V2
1x M5 Black Aluminum Lock Nut (CW)
4x M3x6 Socket Cap Screws
4x M3x8 Socket Cap Screws