Lumenier QAV-S 5" Freestyle Quadcopter Frame - Joshua Bardwell Special Edition
Sorry, currently out of stock
Introducing the Lumenier QAV-S 5" Freestyle Quadcopter Frame - Joshua Bardwell Special Edition. A custom designed drone frame for FPV Freestyle flying.
This frame was designed in collaboration with Lumenier and world-renown FPV guru Joshua Bardwell to bring you the "perfect" FPV freestyle frame. Building upon the success of the QAV-S series, the JB special edition takes it a step further with optimized design to save weight, single-piece top plate for added strength and rigidity, thicker bottom plate for more durability, lower stand-offs for improved CG and better handling, and much more!
The QAV-S is a 5-inch freestyle airframe that is ultra-durable, easy to work on, and locked-in to perform and provide the best flight feel. The QAV-S has many small details that were well-thought-out - including premium Lumenier carbon fiber with finished and chamfered edges on all the plates, 7075 colored aluminum standoffs to give the quad a sleek look, plus all hardware is included.
The QAV-S brings several new innovations to the table. The first innovation is the arm locking system which includes a hinge with a press nut that secures the arms and requires just one screw to swap the arm. This is a convenient feature when maintenance is needed. The second feature is a split bottom plate that gives enough room for a micro camera, while also reducing the rear deck space for components. Lastly, the QAV-S has isolated 20x20 and 30x30 stack mounting in the center (and 20x20 mounting in the rear) that lets you take care of your electronics stack without the need to alter the frame structure and overall build.
---
I chose the QAV-S as my favorite freestyle frame because it has the perfect balance of light weight, flight performance, durability, and ease of maintenance.   The JB edition increases durability by going to a single-piece top plate and changing the bottom plate from 2mm to 3mm. By going to a "slammed-deck" design, the weight of the frame stays the same, and durability and flight handling are further improved.
-Joshua Bardwell
---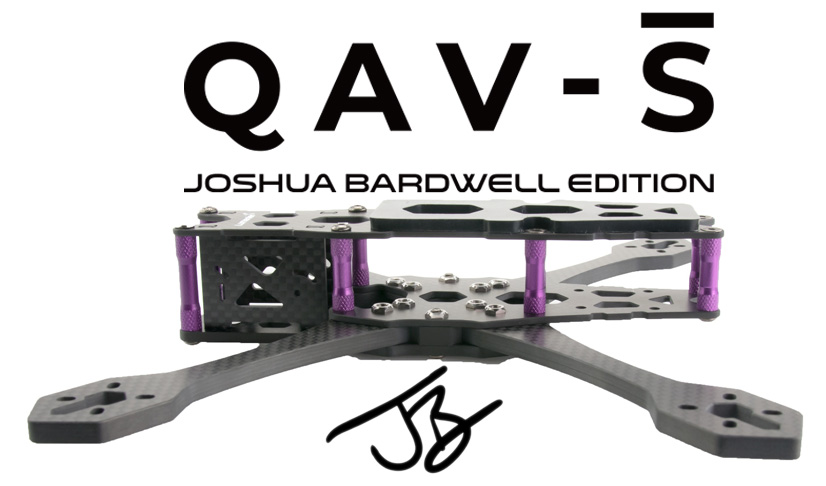 Features
20x20 and 30x30 mounting options
Caddx Vista compatible
Low profile design (slammed to 20mm) 
Isolated stack design (lowers vibrations to FC)
One screw arm swap
Split bottom plate +upgraded 3mm carbon fiber
Narrow body plates for reduced weight and improved flight performance
Optimized motor mounts to reduce weight
Purple stand-offs!!
Specifications
Arm: 5mm 3K Carbon Fiber
Aluminum Spacer: 7075 Aluminum
Screws: YFS steel 12.9 grade
Frame Size: 220mm
Weight: 107g (without battery pad)
Recommend Parts (Not Included)
FC: 30.5x30.5 / 20x20 hole size
Battery: 4-6S 1300-1800mAh
Camera : Micro(19mm) Size
ESC: 40-60A 4in1 ESC
Motor : 20xx-22xx
Includes
Carbon Fiber
1 x 2mm Top Plate
1 x 3mm Front Bottom Plate
1 x 2mm Rear Bottom Plate
2 x Camera Side Plate
1 x 2mm X Lock Plate
4 x 5mm Arms
2x 5mm Arm Wedges
Hardware
2 x Aluminum standoff 27mm
6 x Aluminum standoff 20mm
2 x M2x4 Screw (camera)
10 x T-Nut (press nut, pre-installed)
5 x M3x6 Countersunk screw
6 x M3x6 Screw
16 x M3x8 Socket Cap Screw (motors)
2 x M3x12 Screw
4 x M3x16 Screw
4 x M3x22 Stack Screws
Accessories
1 x Sticker sheet featuring 6x custom artwork designs
1 x Lumenier Indestructible Kevlar Lipo Strap - 20x250mm
1 x Packing Box
1 x Build Manual
Downloads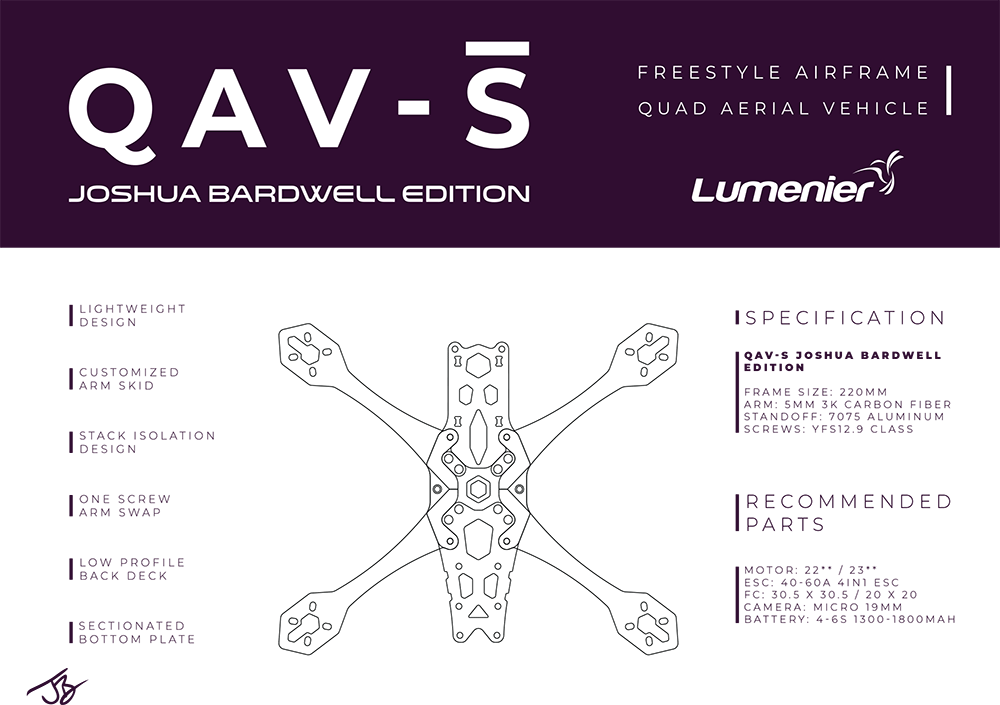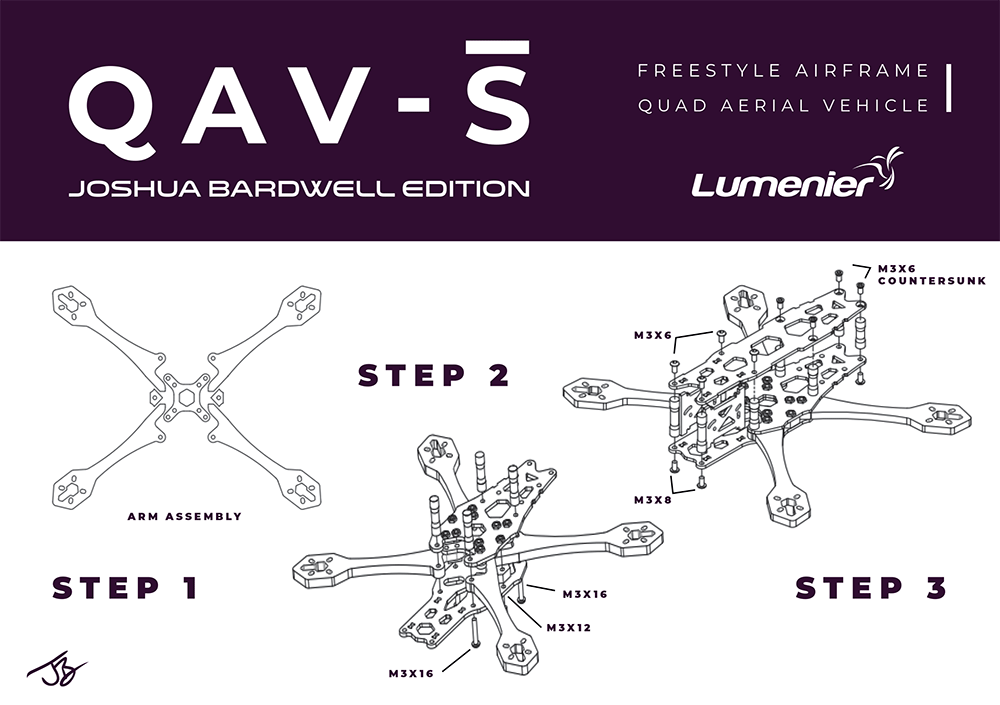 Videos